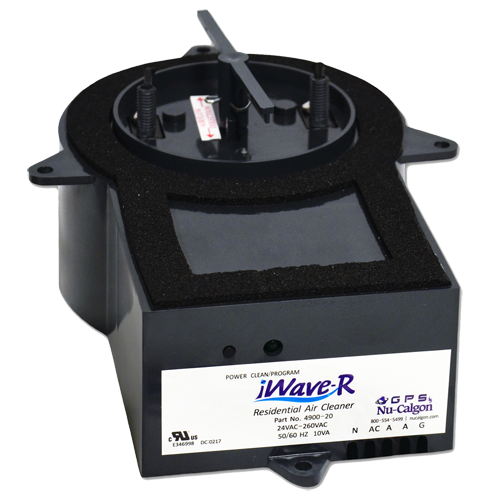 iWave-R is an air purifying device that installs in any duct air conditioning system. When air passes over the iWave, ions produced by the device reduce pathogens, allergens, particles, smoke and odors in the air, creating a healthy environment without producing any harmful byproducts. As the air flows past the iWave-R, positive and negative ions actively purify the supply air, killing mold, bacteria and viruses in the coil and living space. The ionization process also reduces allergens, smoke and static electricity, as well as controlling cooking odors, pet odors, VOCs and other particles in the air without creating ozone or any harmful byproducts.
The iWave-R always works at peak performance, producing over 160 million ions/cc, more than any other ionizer product on the market. Its patent-pending self-cleaning design includes a programmable cleaning cycle that can clean the emitter brushes every 1, 3, 5 or 10 days.
Features:
Patent-pending self-cleaning design ensures ongoing peak performance
Needle point ionization actively treats air in the living space
For duct systems up to 6 tons (2400 CFM)
Works with any HVAC System
Universal voltage input – 24VAC to 240VAC
Universal mounting with magnets
Coronavirus Update
The iWave family of products have been proven through independent lab testing to significantly reduce a wide variety of pathogens in the breathing zone and on hard non-porous surfaces. Click here for new laboratory test results on the Coronavirus.